Design Me A Killer Classified Ad Guaranteed To Attract Pools of Applicants!



The average 32 year old has worked for nine different companies
Big Red Flag! The 4 Most Dangerous Types of Employees

And How You Can Avoid Hiring Them
Avoid hiring bad employees
Of all the kinds of employees, there are 4 that you should steer clear of or end up in peril. These 4 are job hoppers, negative attitudes, gossips and know-it-alls.
Job Hoppers
Specify your job position requirements to avoid hiring bad employees
Your life will be a living hell if you hire a job hopper. Their behavior will consist of tons of call offs, no shows and tardiness, etc.
Depending on the type of business you're in (fast food versus high level management) you should set your work history standards from the beginning based on what has worked for you in the past. For example, a work history standard could be:
Fast Food - Held at least one job for 8 months or more
High-level management - A manager at the same company for 5 years or more
Stick to this standard. Don't be naïve. If your prospective employee has horrible work history, don't think you can be the one to change them because history almost always repeats itself.
Make sure that you don't fall for the resume's that state how great they are but omit dates of employment. They are more than likely hiding their poor work history.
Negative Attitudes
Flee from these types immediately to avoid hiring bad employees
When you hire someone, you don't just hire the person, you hire everything that comes along with them-their morals, beliefs, baggage and work ethic. Wherever you go there you are. If you sense that your candidate has a bad attitude, run fast, even if they have great work history and you feel that they could do the job.
If you make the mistake of hiring this type of employee, they'll begin to eat away at your company like a cancer, sabotaging your every move and turning everyone against you. They'll begin to infiltrate your good employees with the"us" versus "them" mentality. Make sure to ask how their attitude was when checking job references.
Gossips
Avoid hiring bad employees to eliminate discord in the workplace
Complainers and gossipers spread negative attitudes like wild fire. They're always worrying about what others are doing and not themselves. They justify their poor actions by the faults of others. This generates bad feelings with co-workers. Gossips will create division and break apart any team. Complaining is a way of life for them. It creates a lazy atmosphere where they just don't want to work.
Ask many leading questions about past relationships with bosses and co-workers to avoid hiring these people. You must decide if they're a gossip carrier by the response to these questions. When checking references, ask how well they got along with others.
Know- It- Alls
Eliminate rebellion in your company by avoiding hiring bad employees
These employees are trouble makers. They don't like to follow policies and procedures. Defying authority and disrespecting the boss are common problems with them. They think that they know more than the boss and want to do everything their own way. This causes disruption, problems and break downs in the flow of any system you have in place.
Save yourself the headaches by asking many questions about their view on different policies from previous jobs. Find out from their former employers how well they followed policies and procedures.
Placing any of these 4 types of employees on your team can be the beginning of the end for you and your company. By using these warning signs and tips, you can avoid hiring bad employees.
Click here for more information on how to avoid hiring bad employees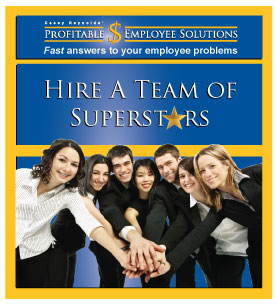 Casey Reynolds is an Entrepreneur, Author and Expert with over 20 years of experience in Hiring and Retaining Employees.Visit him at www.profitableemployeesolutions.com or e-mail him at casey@profitableemployeesolutions.com