Design Me A Killer Classified Ad Guaranteed To Attract Pools of Applicants!



The average 32 year old has worked for nine different companies
How To Build Rock-Solid Employee Loyalty By Conveying One Simple Thing

Employee Loyalty
I've talked about this many times, but it can't be reiterated enough. It's the one thing that's lacking in most human relationships. Most divorces are caused by the lack of it. Most employees quit their jobs because they never felt it. This one thing is . . . Appreciation!!!
Why Appreciation Matters
Expressing gratefulness to increase employee loyalty
Appreciation is as vital to relationships as the air we breathe. No relationship can flourish without it. If you talk with couples that have been married for many years, you'll find that one of the keys to their lasting relationship is that the spirit of appreciation is still alive and well.
The spousal relationship is no different than a professional one. In fact, when you hire an employee you form a kind of marital commitment. You come together to work towards a common goal. In a marriage, that goal can be to build a life and family. In a professional relationship that goal can be to serve customers.
Ways To Convey Appreciation
Building employee loyalty through many avenues
Appreciation in any form is acceptable but there's an art to conveying it. If you follow my easy 2 step process, you can make even a tiny gesture of appreciation go a long way.
Immediately
People's attention spans have decreased greatly over the past 20 years. We want what we want NOW – we don't want to wait for it. Just look at the billions used in credit card purchases – buy it today, pay for it later.
Because behavior appreciated gets repeated, you don't want to wait to communicate it. For example, if your sales rep landed a huge deal that took them months of hard work, you' don't want to wait until next month to make known your appreciation to them. You want to immediately, that day, have something waiting for them; a thank you card with a gift or a banner congratulating them. Your sales rep is excited about their accomplishment NOW.
If you convey your appreciation to your employees immediately, you instill in them the desire to repeat that good behavior on their next sale and the sale after that.
Make It Count
Improving employee loyalty by eliminating stinginess
When an employee goes the extra mile for you, they deserve your very best. Remember the golden rule, "Do unto others as you would want them to do unto you". If you were an employee and you killed yourself for a few months closing a huge deal that brought the company you worked for $100,000 in revenue and all you got was a "thanks, great job"- no card, no bonus, no gift, nothing; you'd be disappointed. You'd feel unappreciated, like your efforts weren't recognized.
If this has you business owners and managers thinking that you can't afford to lavish your employees with gifts or bonuses, I want to introduce to you a principle that's been the bedrock for me in retaining hundreds of employees over the past 20 years. This principle is called "Sowing before you reap".
Sometimes you just have to suck it up and give your employees a modest gift or bonus with a card to convey your appreciation for a job well done, believing that if you reward their good behavior now, it will soon be repeated.
If you think about it, it's a whole lot cheaper to give small gifts or bonuses of appreciation than it is to have the nightmare of employee turnover. It's a lot cheaper to keep your current good employees by appreciating them than it is to have them walk out that door to greener pasteurs.
You as a business owner and manager have to develop empathy for those you employ. Empathy is the ability to put yourself in your employee's shoes. To feel what their feeling is vital to the success of your company. Conveying appreciation immediately after the accomplishment is made with a modest gift of some kind will get you what most employers only dream of . . . ZERO EMPLOYEE TURNOVER!
Click here for more information on strengthening employee loyalty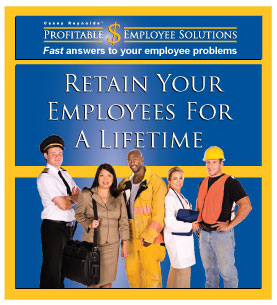 Casey Reynolds is an Entrepreneur, Author and Expert with over 20 years of experience in Hiring and Retaining Employees.Visit him at www.profitableemployeesolutions.com or e-mail him at casey@profitableemployeesolutions.com