Design Me A Killer Classified Ad Guaranteed To Attract Pools of Applicants!



The average 32 year old has worked for nine different companies
How to Manage 1 or 100 Employees Using Only 1 Report

A Snapshot of Your Critical Numbers
Managing employees successfully
There are many ways you as a business owner or manager can oversee your company. You can go 90 miles an hour trying to micro-manage each of your employees' every move. Or you can sit back and instead of running around like a chicken with your head cut off, you can use a monthly Flash Report to keep tabs on what's going on with every aspect of your company.
What is a Flash Report?
A fast and easy way to manage employees successfully
In the business world, there are so many wheels that need oiled. You not only need to make sure that your customers are being properly served, but you also need to make sure that your employees' needs are met and your company's goals are attained – all while keeping your costs down.
This scenario can be likened to juggling 20 balls in the air and praying that none of them come crashing to the ground. If they do, you know that you could be in deep doo doo. The easiest way to monitor all of these balls and to keep them from plunging to the ground is to use a monthly Flash Report.
A Flash Report is simply a snapshot of all your critical numbers that keep your business from going under. Numbers that no matter what you do right or wrong that month, if you hit them you were successful.
Customize the Report to your Industry
Oversee important factors to manage employees successfully
What are the top 10 to 15 areas of your business that you need to pay special attention to? Here is a list that I compiled that may help to jog your memory as to which factors coincide with your industry.
Field labor %
Office labor %
# Of complaints
# Of lost accounts
Outstanding collections
# Of customers you weren't able to service
# Of Workers Compensation Claims
Revenue this month versus this month last year
Total # of customers sold
Vehicle Maintenance and accidents
Ideas to save your company money
Problems your managers are having
What employees need an appreciation note from you and why
Manager meeting results
Any waste in the company
Problems or concerns found while visiting all of your offices
Goals from last month that your General Manager met
Goals from last month that your General Manager didn't accomplish
Goals for next month for the company and your managers
Use the Report as a Tool of Accountability
Manage your employees successfully by holding your General Manager responsible
Instead of you filling out all of the details on this report, assign the task to your General Manager. By doing this, not only will you be able to keep your pulse on the things that matter within 30 seconds time, but also you can use this report as a tool to hold your General Manager accountable. Remember, "What you expect – inspect".
When they fill out this report, they'll see first-hand the weaknesses of the company and be able to make plans on how to overcome these vulnerabilities before it's too late.
It doesn't matter if your company has 5 or 95 employees, using a monthly flash report to monitor and oversee the most important factors of your company is the key to keeping your company healthy and managing employees successfully
Click here for more information on managing employees successfully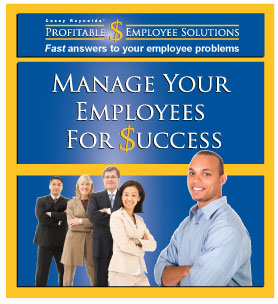 Casey Reynolds is an Entrepreneur, Author and Expert with over 20 years of experience in Hiring and Retaining Employees.Visit him at www.profitableemployeesolutions.com or e-mail him at casey@profitableemployeesolutions.com