Design Me A Killer Classified Ad Guaranteed To Attract Pools of Applicants!



The average 32 year old has worked for nine different companies
How To Use The Internet To Draw In Hundreds Of Qualified Applicants

5 Keys to Making Your Website a Magnet
If you don't already have a website, you've got to get with the 20th century, even if its only 2 pages long (1 targeted to your customers and 1 targeted to your employees). In this technology-driven workplace we live in, most people have computers and they'd rather look your site up from an advertisement to see what you're all about first, then call you or fax a resume.
Reasons To Work Here
List benefits to attract good employees online
Because of the tight labor market we live in, it's not enough to attract employees; they need to be sold on your company. Your website is where you do the selling. Brainstorm 3 to 5 compelling reasons why a prospective employee would want to work for your company. These reasons could be any of the following:
USP (unique selling point) - That thing that differentiates your company from the hundreds of others
In your field. ( for more information on how to develop your USP read
The article "How To Write A Killer Classified ad".
Health insurance from day one
4 weeks paid vacation
Summers off
Casual dress code

Standards required to hire employees online
List the qualifications that you're looking for in a prospective employee so that your website qualifies the applicant for you. For example:
4 year business degree
PA driver's license
Full-time
5 years of management experience
Advancement
Use promotion to lure employees online
Not every prospective employee may want to advance in your company, but they will want to know that the option is available to them if they so choose. Lay out your structure of advancement in detail making sure to add a one sentence description of each job and how they can reach that level. For example, at a fast food restaurant, the levels of advancement could be:
Cook – prepare food on grill
Cashier – customer service, handle money and complete orders
Drive-thru – customer service, handle money and complete orders
Assistant Manager – customer service, manage front-end and drive-thru cashiers
Manager – customer service, manage all employees, banking, scheduling of hours
Testimonials
Appeal to employees online through endorsements
A website is a perfect tool to show prospective employees that your company's a great place to work from the perspective of your current employees. To the right of the website, block off and use a different color to differentiate an area for these testimonials. You can call it – "What Employees are Saying."
Some excellent examples of testimonials are:
"It's a fun and friendly place to work. I love knowing I have my weekends off."
Ashley Rubino
"They treat me with respect and always reward me for a job well done."
Becca Pucci
"They moved me into management within 6 months. I've never advanced so quickly in any other job."
Sandi O'Hara
3 Keys to Successful Testimonials
Keep Them Short
The web is designed to help time-starved people grab information quickly to make informed decisions. Keep your testimonial to 1 or 2 lines. Get right to the point – the thing that will really turn your prospective employee on.
Make Them Believable
The internet is the perfect environment for scam artists, therefore visitors are very wary and need convinced that you're sincere. To help show them that you are sincere, attach a picture and the full name of each testimonial. This will make a huge impact on the believability of your site.
Get A Release
Any time you quote someone on your website, you must get a signed testimonial release. It's as simple as a piece of your letterhead with a sentence that says something like.
"I give my permission for (your company name) to use the following testimonial on all of their marketing material and websites. "
Then at the bottom, type out the exact word-for-word testimonial they gave you. Add a signature and date line at the bottom for them to sign. Keep these testimonial releases in a file. This release may help to eliminate an employee from coming back at you saying that they never gave you permission to put their testimonial on your website
Website Form
Communicate with employees online
The only way that your employee website can be a success is if you have an area where your prospective employees have the freedom to ask questions, leave comments or ask for more information. This will not only give them freedom to ask you things they may feel awkward asking over the phone or face to- face, but it will also capture important information so that you can call them, place them on your mailing list and track how they heard about you so you know which marketing is working and which isn't. This website form should consist of the following:
Name
E-mail
Phone
Address
City
State
Zip
How you heard about us
Questions and comments
As you can see, it's a cinch to develop a fast and easy way to draw in hundreds of qualified applicants like a magnet by following these 5 easy steps.
Click here to learn more about how to find employees online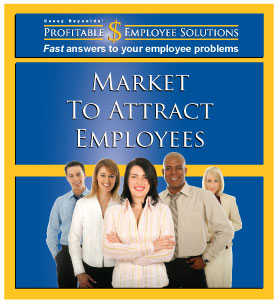 Casey Reynolds is an Entrepreneur, Author and Expert with over 20 years of experience in Hiring and Retaining Employees.Visit him at www.profitableemployeesolutions.com or e-mail him at casey@profitableemployeesolutions.com