Design Me A Killer Classified Ad Guaranteed To Attract Pools of Applicants!



The average 32 year old has worked for nine different companies
How to Write a Killer Classified Ad

6 Easy Steps to Attracting Employees Like a Magnet
Writing a classified ad
Define Your USP for Your Classified Ad
USP stands for unique selling point. Your unique selling point is what your company can give a prospective employee that most other companies in your field cannot. For example; Benefits from day one; summer's entirely off (think teachers); and Casual dress code, etc.
At our cleaning service, we compete to snatch employees from industries where the hours are notoriously bad. For example: Fast food; personal care; retail and janitorial. What we can give them that these categories of businesses can't is guaranteed daylight hours.
Our USP (unique selling point) to our employees is "Never work Evenings, Week-ends or Holidays Again!" And boy does this work. This USP is the very reason that 90% of our employees leave these industries and come to work for us. We shout this USP from the roof-tops by integrating it into every piece of marketing material directed toward employees.
Local Phone number
Market locally when writing classified ads
Employees want to work as close to their jobs as possible (think gas prices). So it only makes sense to show them in the ad that the job location is in the same vicinity as they live in. If you have a 1-800 phone number and think that you're doing your prospective employees a favor by saving them the money it costs to call you - think again. A 1-800 phone number is ambiguous. A prospective employee has no idea where your company's located, therefore, more than likely they'll just move on to the next ad that has an exchange that they're familiar with.
For example, if you have 4 locations but only one of those is your main office where all of the calls go to, it pays to set up a local exchange that's familiar to your prospective employees in all 4 of those areas, not just one phone number at your main office. You want your ads to show that your company has a presence in all of the areas that you service. You can always schedule the phone company to forward the other 3 exchanges to your main location.
Use Benefits as a Selling Point
Writing classified ads that make employees feel taken care of
Since you will be competing with hundreds of businesses for prospective employees, you'll need to brainstorm every benefit you can offer them. For example some benefits could be:
Health benefits from day one
$ 25/hr pay rate plus bonuses
Jeans and T-shirts okay
$ 1,000 Hiring Bonus
Use Direct Calls to Action
Write classified ads that use clear directives
If your ad doesn't tell your target employee what you want them to do after they read the ad then it's a waste of money. Some examples of calls to actions are:
Call Now
Fax resume to
E-mail resume to
Provide a Website Address
Add credibility when writing a classified ad
If you don't have a website, you must get with the times Even if its only 2 pages, 1 directed to your customer and 1 directed to your employees. You can do this for a couple hundred dollars or you can do it yourself for free. A website is one of the best investments you can make in attracting employees. In the technological age we live in, most people have computers and they'd rather look your site up 1st to check you out then e-mail you if they're interested.
Use an Attractive layout
Write a classified ad that catches the eye
What good is it to write a classified ad if it doesn't look professional? Laying the ad out in an attractive manner is vital for it to be successful. Spacing, bullets and fonts can make the difference between an attractive ad and a jumbled one. Also, placing the benefits before the requirements is crucial (remember WIIFM – What's In It for Me). A successful ad should be laid out in the following order:
Attention Getter (those bold images you can use to get the reader to look at your ad)
Space
USP (your unique selling point – what differentiates your company from others in your field)
Space
Bullet then benefit
Bullet then benefit
Bullet then Benefit
Bullet then Benefit
Space
Your requirements (what you need them to have or do)
Space
Call to Action
Space
Local area name/Local phone number
Space
Web address
Here's an example of an ad:
ATTENTION

*No evenings weekends or holidays
* Benefits from day one
*$ 9/hr - $ 12/hr
* 3 Weeks paid vacation within 6 months
* Fast-track advancement program


PA Drivers license a must

CALL NOW!!

Whitehall 412-833-4400
Monroeville 412-373-4000


www.yourcompany.com
As you can see, writing a killer classified ad that works is not hard at all if you follow these 6 easy steps
Click here for more information on writing a killer classified ad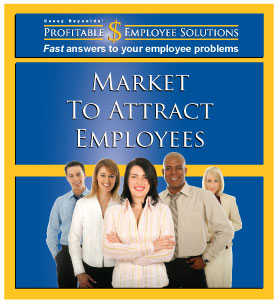 Casey Reynolds is an Entrepreneur, Author and Expert with over 20 years of experience in Hiring and Retaining Employees.Visit him at www.profitableemployeesolutions.com or e-mail him at casey@profitableemployeesolutions.com