Design Me A Killer Classified Ad Guaranteed To Attract Pools of Applicants!



The average 32 year old has worked for nine different companies
I Miss You!

4 Steps To Wooing Your Former Employees Back To The Nest
Your employees go through seasons in their lives. They may quit due to having a baby, getting a divorce, caring for a parent, or leaving for a higher paying job. Just as seasons come and go, things change again in their lives. The baby goes to pre-school, they get re-married, their parents die and that higher paying job isn't all it was cracked up to be. This is why the Bible says to sow your seed in the morning and in the evening for you don't know when it will take. Keep your company name in front of them and you may be pleasantly surprised when their life changes and they want to come back to work for you.
Take the Offensive Approach
Rehire your former employees
Many times, these former employees want to call you and ask for their job back, but due to pride many don't. This is why you must take the offensive approach. The current labor pool is tighter than a fleas butt. These former employees are a goldmine just sitting there. The best way to take advantage of this mega-opportunity is to cast your bread upon the water and see what comes back.
Raid Your Files
Which former employees would you rehire?
Go through all of your old employee files and pick out your superstars -those former employees whom you would hire back.
Create a Flyer or Newsletter
Market to rehire your former employees
6 Steps To Creating A Successful "I Miss You" Flyer or Newsletter:
Introduction - The sentence telling your former employees why you're sending them the flyer
"If your current job isn't what you thought it would be, come back and let us treat you like gold."
USP (your company's unique selling point)
To learn how to find your USP, read "How To Write A Killer Classified Ad"
Benefits – Remind them what they're missing because they're no longer working for you:
Summers off
Health benefits from day one
2 weeks paid vacation within 30 days
Fast-track advancement program

Call-to-Action - Tell them exactly what you want them to do:
Call Now
E-mail updated resume
Time Limit – Put fire underneath them. Place a time constraint on the flyer
"Hiring only 10 people by September 30th for the holidays"
Local phone # - Remember that most employees want to work close to home (think gas prices);
Therefore, it only makes sense to show them on the flyer that the job location is in the same vicinity as they live.
Market Consistently
Never give up on rehiring former employees
As I said earlier, if something in their life changes, your company name will be before them continually if you market consistently to this un-tapped niche of former employees.
As you can see, rehiring former employees can be easier than you think if you follow these 5 simple steps to wooing your former employees back to the nest.
Click here to learn more about how to rehire former employees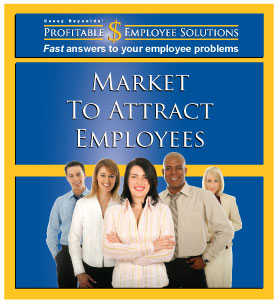 Casey Reynolds is an Entrepreneur, Author and Expert with over 20 years of experience in Hiring and Retaining Employees.Visit him at www.profitableemployeesolutions.com or e-mail him at casey@profitableemployeesolutions.com