Design Me A Killer Classified Ad Guaranteed To Attract Pools of Applicants!



The average 32 year old has worked for nine different companies
Start Your Own Employee Retention Program in 15 Minutes... Or Less

Employee retention program
Many surveys say that the number one issue facing businesses is finding and keeping good employees; however, there are many differing opinions as to which of these two is the toughest to accomplish.
Retaining Employees Versus Finding Them
Holding onto employees is crucial to a low employee turnover rate
Keeping good employees is not about one big hook called "pay"; it's about a lot of little hooks called "why they stay."
A lot of companies emphasize pay as the # 1 reason why employees stay. This is not necessarily true. If you did a survey of your current employees asking them why they stay with your company, you may be surprised at the various answers you receive, answers such as:
You treat me with respect.
Your advancement opportunities are great.
You appreciate and respect me.
You hire nice people to work with.
You moved me into management within 6 months.
The days go by fast here.
Retaining Employees Is an Offensive Strategy
Go on the offense to develop your employee retention program
Retaining employees is an offensive strategy, not a defensive one. You don't wait until an employee gives you their two weeks notice to start an employee retention program.
An employee retention program doesn't have to be an elaborate costly thing. It can be as simple as writing down three or four things that you can begin to sow into your employees right now. For example:
Appreciation
Using gratitude as part of your employee retention program
You will hear this from me over and over again in my courses. Appreciation is the lifeblood of all human relationships. Lack of it is the # 1 reason employees leave their jobs and marriages end in divorce. Appreciation is not a frill or some hokey thing; it's something to take very seriously.
Appreciation can be shown in many simple ways; celebrating special occasions like birthdays and anniversaries with balloons, greeting cards, gift cards and banners; notes of appreciation sent to their home, faxed to their office, left on their desk, or placed on the board; flowers or concert tickets.
Recognition
Acknowledging your employee's accomplishments as part of your employee retention program
One of the biggest boosts you can give an employee is recognizing them and singling them out in front of their peers. This can raise their self-esteem and make them feel warm and tingly inside.
Examples of recognizing an employee are; singling them out in your next staff meeting by clapping for them as a reward for a particular accomplishment or purchasing plaques that commemorate different milestones such as anniversaries, particular achievements, sales quotas reached, and good attendance.
Advancement
Employing promotion as part of your employee retention program
Not every employee welcomes the sometimes unknown and scary challenge of climbing the corporate ladder, but they at least want the option open to them.
Offering advancement opportunities is one of the best ways to keep good employees. You can develop a fast track advancement program by laying out the different positions in your company and what an employee needs to do to attain them. For example: if you own a business comprised of strictly office staff, your fast track advancement program can consist of the following:
| | | |
| --- | --- | --- |
| Data entry: | 6 months | $ 20,000 |
| Customer Service: | 6 months | $ 25,000 |
| Office Manager: | 6 months | $ 35,000 |
| General Manager: | 6 months | $ 40,000 |
| General Manager: | 6 months | $ 40,000 |
Within 2 years, they can be making $ 40,000.
By implementing these 3 simple steps of appreciation, recognition, and advancement, you can develop an employee retention program that can save you tens of thousands of dollars a year.
Click here for more information on how to develop an employee retention program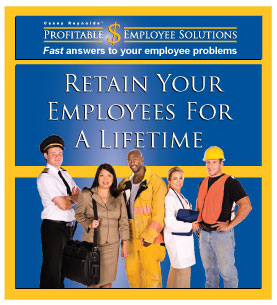 Casey Reynolds is an Entrepreneur, Author and Expert with over 20 years of experience in Hiring and Retaining Employees.Visit him at www.profitableemployeesolutions.com or e-mail him at casey@profitableemployeesolutions.com