Design Me A Killer Classified Ad Guaranteed To Attract Pools of Applicants!



The average 32 year old has worked for nine different companies
The #1 Reason Why Your Employees May Leave You Today

Employee Retention Strategies
And What You Can Do About It
Over the past 20 years of interviewing candidates, I've heard time and time again this one answer when asking why they're leaving their current employer. The answer I'm referring to is:
Not Feeling Appreciated
Thankfulness as an employee retention strategy
Appreciation is the # 1 ingredient to a relationship flourishing, whether that relationship is a marriage, friendship or professional one. No relationship can grow without it.
Many of the business owners and managers I've counseled are so busy wearing several hats that they don't take the time to appreciate their current employees. I always get kind of a hokey grin when I talk about this, as if appreciation were too flowery for them. It's almost as if they just want their employees to get the job done. They don't have time for any of the frills.
Let me caution you if you're taking this attitude. Since lack of appreciation is the # 1 reason why employees leave their jobs and marriages end in divorce, it's something to take very seriously. Don't forget that we're dealing with human beings who have feelings. They're not machines that can be programmed to accomplish tasks without showing emotions.
Appreciation Doesn't Cost A Lot
Gratitude as an inexpensive employee retention strategy
Appreciation doesn't have to take a lot of time or cost a lot of money. It can be as simple as taking an employee aside for no reason at all to tell them that they're doing a great job. The following are other economical ways to show appreciation; birthday and anniversary cards, banners, voicemails singing their praises, faxed notes, cards sent to their home for no special occasion, and posting notes on the board for everyone to see.
Behavior That Gets Appreciated Gets Repeated
Valuing good conduct as an employee retention strategy
The next time one of your employees goes above and beyond on a project, immediately show your appreciation by using one of the above gestures. This act will make them feel so elated that they'll continue to be zealous on the next project and the next one after that. By doing this one simple act, you not only will get good behavior repeated but you'll also stop that employee from ever having the thought of leaving you.
Appreciation is the lifeblood of all human relationships. That's a reason in itself to show it to all of your employees
Click here for more information on employee retention strategies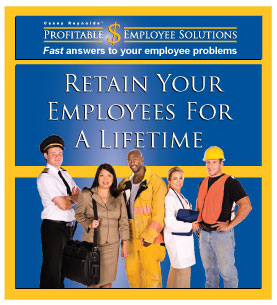 Casey Reynolds is an Entrepreneur, Author and Expert with over 20 years of experience in Hiring and Retaining Employees.Visit him at www.profitableemployeesolutions.com or e-mail him at casey@profitableemployeesolutions.com