Design Me A Killer Classified Ad Guaranteed To Attract Pools of Applicants!



The average 32 year old has worked for nine different companies
The 3 Minute Shortcut To Qualifying Employees

How To Cut Through The Fat To Get To The Meat
How to find qualified job candidates
Asking qualifying questions over the phone is essential to your success in hiring the right person without wasting a lot of your time.
Quit Wasting Time With Unskilled Applicants
Ask questions to find qualified job candidates
As business owners and managers, you're wearing up to 10 to 20 hats on any given day. You don't have time to waste face-to-face interviewing every resume that comes across your desk. You have to learn how to cut out of your day as many tasks as you can that don't make you money.
Face-to-face interviewing unqualified prospective employees is one of those big time wasters. To overcome this, develop a written phone qualification form to qualify all job candidates.
Create A Phone Qualification System
Use a form to find qualified job candidates
Not only will this from save you hours of time by eliminating ever having to spend face-to-face time with unqualified job candidates again, but since it's a written form you can now delegate the phone qualification task to your staff.
By no longer wasting huge chunks of your day with unqualified job candidates, you've freed up a big part of each day to spend on more important money-making tasks like sales and marketing.
There are many ways to qualify a candidate. Use the following list to help you to quickly create a customized phone qualification form that relates to your field:
Qualification Criteria
Use requirements to find qualified job candidates
Transportation needed
Driver's license
Credit history
Clearance checks
Reference checks (before interview)
Software expertise
Hours available
Part- time or full-time
Short-term or long-term
Work history
Willingness to travel
Task-oriented versus people-oriented (accountant versus sales rep)
Good phone voice (receptionist)
Outgoing personality (sales)
Special training
Pay rate acceptance (will they accept the rate you're offering)
Date available to start
Personality profile testing
Skills testing
Ask Most Important Questions First
Prioritize questions to find qualified job candidates
Since you want to spend the least amount of time as possible on the phone with unqualified candidates, make sure to ask the top 3 most important qualifying questions first to weed out those who don't meet your requirements. For example, if you're hiring a sales representative that will be reimbursed for mileage to use their own car to sell your products throughout Pennsylvania, New York and New Jersey, the first 3 questions would be:
Do you have a valid driver's license?
Do you have a reliable car that you would be willing to use as long as we reimburse your mileage?
Are you willing to travel to PA, NY and NJ?
If they say no to any of the above questions, then you only wasted 3 minutes of your time and you can respectively say that you're sorry but they don't meet your requirements for the job.
Place the rest of the questions next so that the phone conversation flows naturally. After every question, add a line to write each of the answers. Type it up and train your staff on how to use it.
By using this 3 minute shortcut to qualifying employees, your success rate for finding qualified job candidates will soar. So get ready!
Click here for more information on how to find qualified job candidates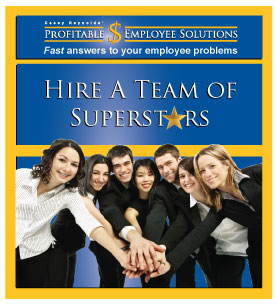 Casey Reynolds is an Entrepreneur, Author and Expert with over 20 years of experience in Hiring and Retaining Employees.Visit him at www.profitableemployeesolutions.com or e-mail him at casey@profitableemployeesolutions.com