Design Me A Killer Classified Ad Guaranteed To Attract Pools of Applicants!



The average 32 year old has worked for nine different companies
Warning! Do You Recognize The 4 Early Signs Before An Employee Goes South?

Managing Unhappy Employees
When an employee becomes discontented with their job, they'll inadvertently develop a poor attitude showing signs of their dissatisfaction in one or more of the following ways:
Frequent Call Offs
Managing unhappy employees that miss work
Knowing each of your employee's call off history is vital. If the pattern changes to include more no shows than usual, then there's a good chance they're heading south as their desire to come to work has diminished.
Complaining
Managing unhappy employees who whine
Criticizing will become a way of life. They'll become easily irritated with the everyday tasks that are assigned to them. They may begin to express dissatisfaction with management, co-workers and company policy.
Diminished Job Performance
Managing unhappy employees who no longer achieve results
Work production will begin to suffer. The quality and quantity of work may decline. Excuses may be made for the lack of output. The desire to accomplish will weaken.
Argumentative and Defensive Behavior
Managing unhappy employees who are quarrelsome
These employees will become contentious and guarded, especially when corrected. They're no longer willing to learn and grow in their position.
When you see one or more of the above actions beginning to take place, immediately take your employee aside to determine the problem. Many times, you're able to overcome the negative situation before they start heading down the wrong path.
Click here for more information on managing unhappy employees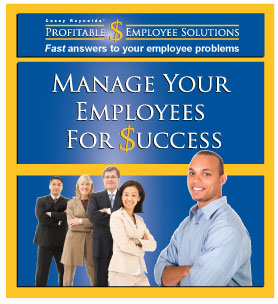 Casey Reynolds is an Entrepreneur, Author and Expert with over 20 years of experience in Hiring and Retaining Employees.Visit him at www.profitableemployeesolutions.com or e-mail him at casey@profitableemployeesolutions.com